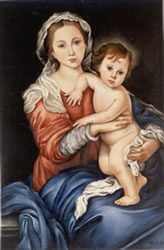 The American technique originating from Europe, according to some people was born in Russia, while for others in Meissen, Germany. It is certain, however, that some porcelain painter, European emigrants, at the beginnings of the 900's have introduced this technique in America. So, they were able to keep it in life and to hand down it while in Europe it was disappearing.
The motifs of the decorations are compositions of flowers or fruit, landscapes, portraits. What distinguishes the designs is the delicate shading techniques, the lightness of the colour, the presence of a coloured background.
It is possible to obtain very light images, almost transparent with colours just posed, with shadings and soft shades which pass from a tonality to the other delicately with a suffused and veiled light. The shadows of the background have the purpose to put the subject in brightness.