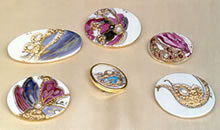 It is a modern painting technique born in the Scandinavian Countries. The motifs of the decorations are often abstract or very stylized. What characterizes this technique is the possibility of modifying the surface of the porcelain with hollows and reliefs. That is realized with the use of special compounds which allow to chip off the "cover" or glaze of the porcelain and to obtain biscuit zones more or less deep and irregular or to create some reliefs in which it is possible to set glass pearls, murrine, river pearls.
Often the colours are replaced by the lustres, solutions with a metal base, which confer to the surface of porcelain a particular brilliance and iridescence.
The bright gold is used to gild hollows and reliefs, to adorn zones covered with lustres, to create particular effects.